The Next Best Thing to Natural Teeth.
In the past, patients who lost their teeth had to settle for dentures or bridges to fill the gaps. At certain times the dentures would get loose and speaking or eating gets hard. These basic tooth replacement options also cannot stop the bone loss in the area where there tooth was previously extracted. Recent development in dentistry can now offer an advanced solution, where the missing teeth can be replaced  with Dental Implant to offer a fixed and permanent replacement.
The Biggest advantage of Dental Implants is that it replaces the missing root as well and not just the visible part of the tooth.
 A Dental implant is an artificial root which is placed into the bone where the tooth is missing to support your new teeth. The implant is made of titanium which integrates with the bone.  And a new crown or dentures can then be cemented or attached with screws over the implant.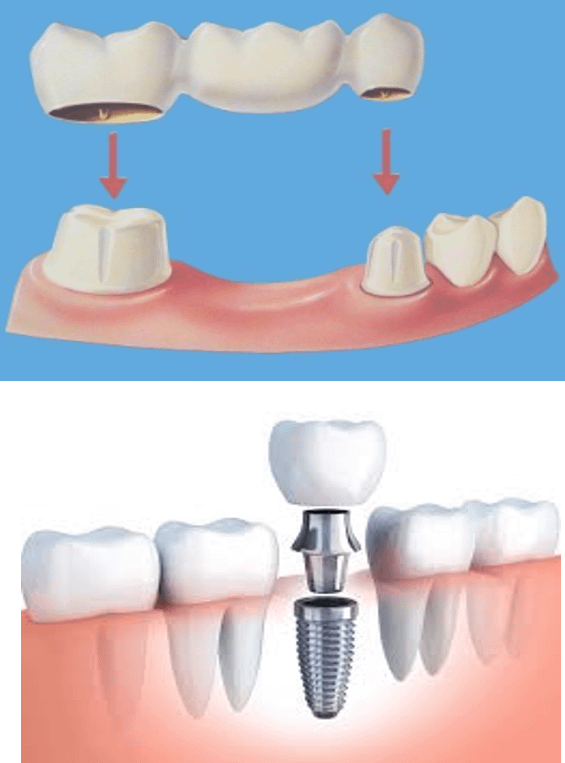 Advantages of Dental Implants Over Bridges?
Dental Implants Look Feel and Function just like natural teeth.
Dental Implants replace not only the visible portion of tooth but also the root as well.
Dental implants are supported by the bone just like natural teeth and not by adjacent teeth.
Dental implants help to prevent bone loss in the are of missing teeth.
For a single missing teeth, a bridge will give you usually 3 artificial teeth. The adjacent teeth are capped to provide support. 
Since Dental Implants is self supported by bone, it does not require grinding of the adjacent teeth for support.
Since Dental Implant is self supported and not joint to adjacent teeth, it functions just like natural tooth.
It is easier to clean and floss around a dental implant.
Dental Implant turn out to be more economical option in the long term. 
Replacement of a single tooth with Dental Implant is a fairly Simple procedure. The most important part is the accurate planning. 
A typical Case workflow of a Single tooth implant.
A complete Digital Planning is done with Clinical, examination, Xrays, 3D CBCT Imaging and other means. 
The Implant is placed immediately after removal of tooth or after a waiting period.(Depending on Case)
This is usually a painless minor surgery and take about 30-45 minutes. 
After waiting for 3 to 6 months, the Impressions are made for fabrication of the crown. 
This step is completely painless and non surgical. 
In some cases, an extra step of uncovering of implant is required a few weeks before impressions are made. 
Once we recieve the crown from the lab, it is attached to the implant with a screw or a Cement. 
In some cases, a trial step may be required to ensure exact and accurate fitting of the crown. 
Now, Fixed Dentures can be made with the help of Implants. 
Four,  or more implants are placed in the bone which act as pillars. A Bridge or Denture is then fixed to these implants.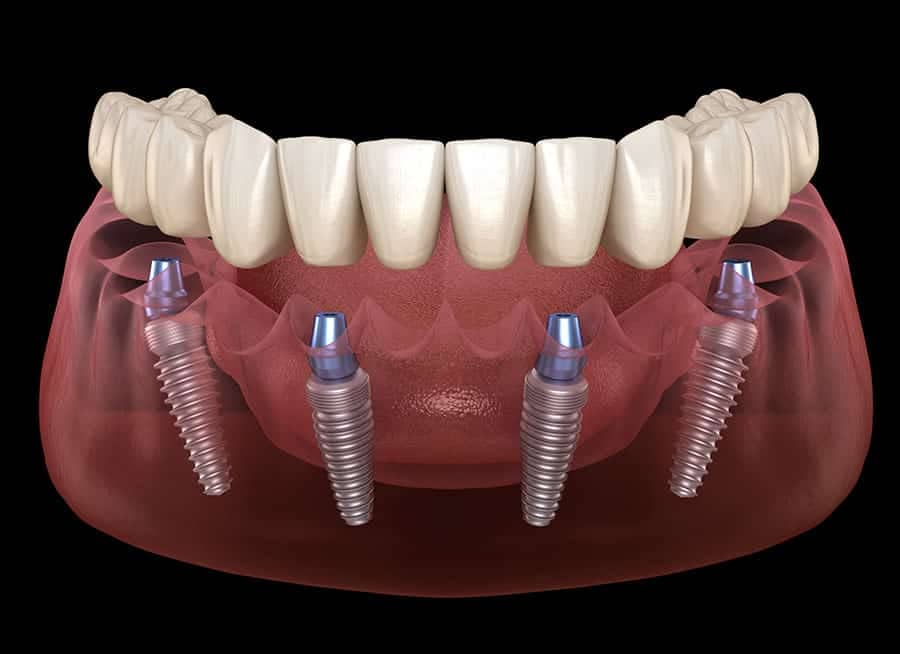 We know you have some questions.
FAQs about Dental Implants.
In most cases, Dental Implant surgery is a minor surgery which is quite painless. There may be some post operative discomfort in some cases for a few days which is usually well controlled with Analgesics we prescribe to you.
No, Dental Implants are done under Local Anesthesia in Dental Clinic OPD setting itself. You dont need General Anesthesia or adnission in hospital.
Yes. Age only is not a contra-indication to dental implants. For all ages, we perform a medical and physical assessment to ascertain if you are fit for dental implant procedures. Some chronic conditions like uncontrolled Diabetes, excessive smoking are relative risk factors. 
If you have any questions, simply call us for free guidance
we ensure that you receive the best possible care.